"Sendo used to tell me fairy tales. How he'd love mine if he were still alive: the tale of a girl who'd sewn the sun, the moon, and the stars into three dresses."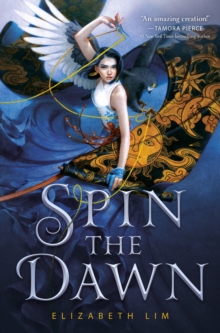 Maia Tamarin dreams of becoming the greatest tailor in the land, but as a girl, the best she can hope for is to marry well. When a royal messenger summons her ailing father, once a tailor of renown, to court, Maia poses as a boy and takes his place. She knows her life is forfeit if her secret is discovered, but she'll take that risk to achieve her dream and save her family from ruin. There's just one catch: Maia is one of twelve tailors vying for the job.
Backstabbing and lies run rampant as the tailors compete in challenges to prove their artistry and skill. Maia's task is further complicated when she draws the attention of the court magician, Edan, whose piercing eyes seem to see straight through her disguise.
And nothing could have prepared her for the final challenge: to sew three magic gowns for the emperor's reluctant bride-to-be, from the laughter of the sun, the tears of the moon, and the blood of stars. 
ℵ
↠ Title: Spin the Dawn
↠ Release: July 9th
↠ Genre: Fantasy
↠ Author: Elizabeth Lim
↠ Rating: 4.2 stars
Shoutout to the sweetheart bookhaulholl for trading me a copy!
I have to start by talking about the cover for this book. OH MY GOD. It's probably one of my favourite covers ever, and illustrated by one of my favourite artists – Tran Nguyen. Do check her out! Her work is incredible, and the cover is my phone homescreen.
Onto the book:
SPIN THE DAWN starts off incredibly strong. I loved the framing of the narrative – starting with the ending and then segueing into the beautiful first chapter. I actually connected instantly with the emotion in the chapter and started crying, LOL.
The following 150-ish pages are then all about the competition narrative, and I really enjoyed them! I sped through them quickly and the originality of having a tailoring competition is something I loved. The following 250-ish are the quest narrative and though I loved this too, I did love it a little less – though I was very fond of seeing how they obtained the sun, moon and stars. The fact I felt these two narratives worked cohesively together is impressive, as it was something I was worried about given competition & quest narratives normally take up entire books by themselves.
Maia was a fabulous heroine and I really loved her. She was really determined and I just … really respected her grit? Edan too I thought was really humorous and interesting, and I really loved the two as a pairing.
To be frank, what knocks this book down a little for me is the fact it's not a stand-alone? I knew from goodreads there was a second book, but I thought it was a companion novel. Only when I got to the end did I realise it would be a direct sequel. And like … the direction it's taking I'm not sure on? I just thought Spin the Dawn would've worked really well as a stand-alone and then with a second book about Lady Sarnai or something, who really interests me and has clearly been crafted with a story that needs to be told. I'm just not sure about the story in book two, but I guess we'll see.
To be sure, it's still one of my favourite reads this month and I'm in love with the cover and have preordered a finished copy. The worldbuilding is lovely too, with the story influences ranging from Mulan to the Arabian Nights. I would certainly recommend it to anyone looking for a good Asian fantasy, or anyone looking for a fantasy novel that's not focused on battles/has a warrior heroine.
TL;DR: A brilliant new addition to the flourishing Asian fantasy genre, with a tailor heroine who makes this a really charming and fresh read.
Clickity click buying links: