This April, @athomeintheclouds and I are hosting a small follow-up challenge to our #fffebruaryreads. I feel like the title of this post is self-explanatory, but this time we're encouraging you all to read books featuring a-spec characters!
Whether you're here because you want to participate in the challenge (which is awesome, btw), or you just want reading recommendations, this post is intended to help everyone find a book which appeals to them – and which they'll hopefully enjoy!
(If you're here because you initially wanted some book recommendations and are now interested in partaking in the challenge, click here. Also there are prizes and it'll be fun, so I really urge you to!)
For organisational purposes, this blog post is split into genres. And if you know of a book that features an a-spec character that is not listed below, please let me know by sending me a message (ideally in the comments here, or through Instragram), and I will happily add it. We want this list to be as holistic and as diverse as possible, so this list will be constantly updated with new suggestions as they come in. (And thank you to every single person that has got in touch with me & Kelsea so we could build this list; we love you!!)
This list may seem a little long, so it to search for a specific genre, just use crtl + g and put in a genre or title; there are broad classifications for contemporary, fantasy, sci-fi, historical and mystery/thriller.
*Also, I just want to note than we're not actual book slayers, and as such have not read all of these. I've done research to try and ensure they all include a-spec representation (either protagonist or side character) in an evident way (if not explicitly stated), but if they should not – we're sorry, and just let us know so we can remove it from the list ❤
**the [OV] tag stands for a-spec ownvoices, but most of the books on here do have authors on the LGBTQ+ spectrum even if they're not a-spec
***I've added in brackets to some books bios to indicate the exact kind of rep featured; some descriptions say 'on-page' which indicates whether a specific word such as "asexual" or "aromantic" is used on-page to clarify the character's sexual orientation
<>
Contemporary
Radio Silence by Alice Oseman [OV]
A gorgeously emotional UKYA contemporary novel about youth and identity. Frances is dedicated to working hard, but when she meets Aled, she opens up and is unafraid to be herself – and she discovers that there are some really beautiful friendships out there. (On-page asexual deuteragonist in Aled)
 Summer Bird Blue by Akemi Dawn Bowman [OV]
After her sister dies, Rumi is sent away to live with her aunt in Hawaii. With the help of the "boys next door" – a surfer named Kai, and an 80-year old called George Watanabe – Rumi finds ways to move on and heal. (A-spec heroine)
Loveless by Alice Oseman [OV]
This one isn't out yet, but I wanted to feature it just so everyone was aware of it! It's an #ownvoices novel from Oseman, and it's all about an asexual girl learning to love herself and removing the fear that she is 'loveless'. (A-spec heroine)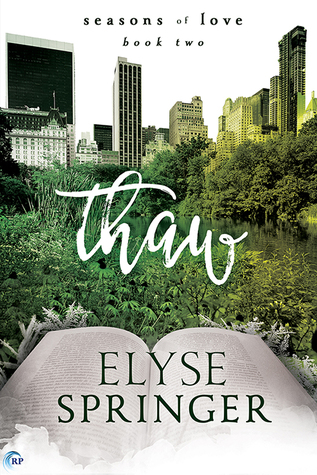 Thaw by Elyse Springer
Abigial, a librarian, somehow ends up at a swanky auction, where she meets and dances with the most glamorous woman she's ever met. When a romance seems on the cards, she's worried that her asexuality might spell the end.
Let's Talk About Love by Claire Kahn
After telling her girlfriend she was asexual (which resulted in a breakup), Alice has decided her whole summer is going to be tv marathons and food buffets. But when she meets Takumi, her plans change. (On-page asexual heroine)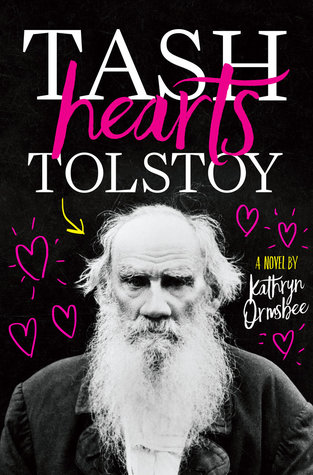 Tash Hearts Tolstoy by Kathryn Ormsbee
Tash loves Tolstoy. And after a shoutout from a superstar vlogger, Tash finds her amateur web series – based upon Anna Karenina – thrust into the limelight. She's even nominated for an award, which brings its own complications. (On-page asexual heroine)
Seven Ways We Lie by Riley Redgate
Everyone has something to hide. When a school scandal starts to boil over, and rumours of a teacher-student affair surface, everyone starts hunting for someone to blame.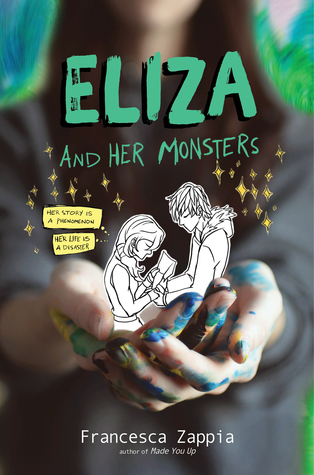 Eliza And Her Monsters by Francesca Zappia
In real life, Eliza is friendless. But online? She's famous, the creator of a wildly popular webcomic. But things get sticky when a fanfic writer for her own webcomic transfers to her school. (A-spec heroine)
 How To Be A Normal Person by TJ Klune [OV]
Gus is not normal. And he's cool with that. But then Casey, asexual stoner hipster and the newest employee at Lottie's Lattes, enters his life. And for some reason, Casey thinks Gus is the greatest thing ever.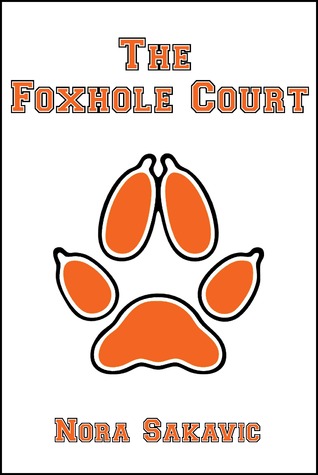 The Foxhole Court by Nora Sakavic
Neil Josten is the newest addition to the Palmetto State University Exy team. He's also the runaway son of a crime lord known as The Butcher. Neil knows signing with the team isn't wise – it'll bring publicity he doesn't want or need, and could get him killed.
The Princess and the Fangirl by Ashley Poston
When two look-a-likes – a fan, and an actress – meet, they quickly become enemies. But when the script for a new blockbuster leaks, they must team up and find the person responsible. (Jess is very likely demisexual a-spec)
The Meaning of Birds by Jaye Robin Brown
When Jess's beautiful girlfriend Vivi dies, she spirals into grief. After getting into a fight, she ends up at school for delinquents and starts learning blacksmithing as part of the school's programme to teach students a creative trade – and it helps her start to heal. (On-page aromantic secondary character)
That's Not Wanted Happened by Kody Keplinger [OV]
It's been three years since the deadly high school shootout at Virgil County High School. Six survivors all have different stories on what happened, and each is trying to make their story the lone truth.
<>
Fantasy
 Beneath the Citadel by Destiny Soria [OV]
In the city of Eldra, everything is ruled by prophecies. A group of youths discover the secrets of the labyrinth beneath the citadel, and realise there's a different future for them all. (Alys, one of the leads is on-page a-spec)
Every Heart A Doorway by Seanan McGuire [OV]
An excellent novella (and perfect for the novella part on the bingo board), this is a story about all the wayward girls and boys who've been tossed out of their fairytales. In addition to an ace heroine, there's all other kinds of rep too! (Asexual heroine, on-page)
Sinners by Eka Waterfield
Basically, the quick and simple selling line is: "An asexual drug lord fae (or specifically, sidhe) uncovering the schemes of Winter Court." So yeah. Essentially, fae and narcotics?
 Sawkill Girls by Claire Legrand
Girls have been going missing for years on the island of Sawkill Rock. When new girl Marion arrives, she teams up with the local queen bee and the daughter of the police chief to investigate. (One heroine is asexual, on-page)
The Perfect Assassin by KA Doore
Amastan, the newest member in a family of assassins, is hesitant about taking a life. But when killing contracts start drying up and someone starts murdering their own marks, he's put to the test and sets about investigating the string of murderers.
City of Strife by Claudie Arsenault [OV]
When one of his friends is accused of murder, Arathiel sets out to prove his innocence. He appeals to an old elven family who have their own problems, and who wish to enlist Arathiel's help in return for their own. (Mostly everything by Claudie Arsenault has a-spec rep!)
 Clariel by Garth Nix
Clariel is not adjusting well to the city of Belisaere. She misses the forests, and feels trapped within the city's stone walls. But when a dangerous magic creature is found loose in the city, Clariel realises she has a chance at escape.
A Tropic of Serpents by Marie Brennan 
The second book in the Lady Trent series. Accompanied by an old associate and a runaway heiress, Lady Isabella Trent ventures to the war-torn continent of Eriga to study the dragons that live there. (A-spec side character in Natalie Orscott)
Beyond the Black Door by AM Strickland
Kamai and her mother can step into other people's souls whilst they sleep. And in every soul Kamai visits, she sees the black door. And though she knows she must never touch it, a tragedy forces her to open it. (A-spec heroine)
Dread Nation by Justina Ireland
In a world where the dead roams across the United States, Jane is a student at a combat school where she learns to put down the dead–for good. But when families begin to go missing, Jane is caught in the middle of a conspiracy that threatens her life.
<>
Sci-fi (inc. Space Opera)
Vicious (& Vengeful) by V.E. Schwab
A gorgeous, morally grey and provoking read (it's one of my favourites and I recommend it to everyone). Two best friends invoke NDE's to earn superpowers, but when they get them, they go down two very different paths. (Asexual hero in Victor)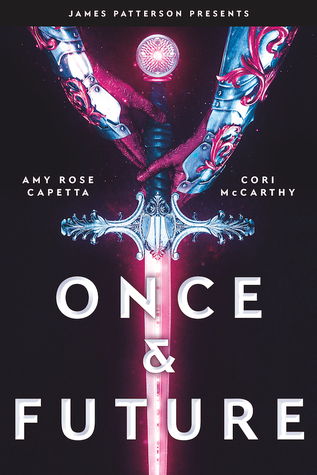 Once & Future by Cori McCarthy & Amy Rose Capetta
A scifi retelling of King Arthur & the Camelot tale, this novel features not only a secondary a-spec character but also a central f/f romance, a gay Merlin, a nonbinary character and shovel-loads of other diversity! (On-page asexual side character in Jordan)
 Hullmetal Girls by Emily Skrutskie
Unable to afford treatment for her plague-afflicted brother, Aisha volunteers to become a genetically modified cyborg. She crosses paths with another cyborg called Key, who ends up as her main rival for top placement.
Dare Mighty Things by Heather Kaczynski
The rules are simple: you must be gifted. You must be younger than twenty five. You must be willing to accept the dangers you face if you win. If you comply? You'll get the opportunity to travel to space.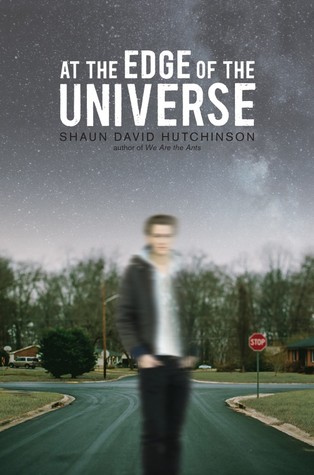 At The Edge of the Universe by Shaun David Hutchinson
Tommy and Ozzie have been best friends since second grade, and boyfriends since eighth. But then Tommy vanishes – disappearing from the minds of everyone who knew him, and it seems as if he never existed in the first place.
Daughters of the Forgotten Light by Sean Grigsby
In a floating prison in space, Lena "Horror" Horowitz leads the Daughters of the Forgotten Light, one of three vicious gangs fighting for survival. But when a fresh batch of prisoners arrives, no one is expecting the new surprises: a drone, and a baby.
Tarnished Are The Stars by Rosiee Thor
Anna has a secret: her heart is clockwork, and it is illegal. She works under the moniker "Technician" to supply black market medical tech to the sick and injured, against the law. Which may get her in trouble, sooner rather than later.
Quicksilver by RJ Anderson
Once, Tori had everything – money, beauty, popularity. Now she's on the run, hunted by an ex-cop turned investigator who wants to capture her for a genetics lab that intends to investigate her unusual talents.
<>
Historical 
The Lady's Guide to Petticoats and Piracy by Mackenzi Lee
Determined to be educated after being rejected by the medical school in Edinburgh, Felicity Montague travels to the Continent to study under her idol. However, she gets caught up in an illegal sea dragon trade and makes solid female friendships on the way. (A-spec heroine)
 The Spy With The Red Balloon by Katherine Locke
Two twins with the ability to work magic are blackmailed by the government to work for them during WW2. One lends their abilities to America's newest weapon – the atomic bomb – whilst the other goes behind enemy lines to sabotage Germany's nuclear weapons programme.
<>
Mystery / Thriller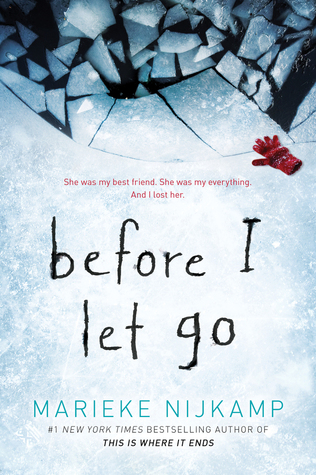 Before I Let Go by Marieke Nijkamp [OV]
Two best friends are separated when one moves away. When one is due to come back for a visit, things are thrown off by her abrupt death. But something is wrong – the town is keeping secrets.
Switchback by Danika Stone
When two friends (a nerd and a social reject) go on a school camping trip, they expect it to be a joke. Instead, a freak snowstorm separates them from the rest of their class. Alone and lost, they have to use their wits to survive and make their way back to society.
<>
Further Materials:
Author Claudie Arsenault has an amazingly detailed database HERE
Also checkout this very in-depth list of a-spec books HERE