So I'm back! With Part Two *jazz hands* that I forgot to schedule and post, lmao. Part One was filled with some more well-known upcoming releases, and I admit this one has a few more hyped books mixed in with smaller ones, but they're all very much worthy of some great hype.
ℵ
Gideon the Ninth by Tamsyn Muir
Tor, September 2019
When I first heard of this, I thought it was related to Bardugo's upcoming Ninth House (it is not), so when I went to take a look I was caught unawares but the AWESOMENESS. It follows two girls who may or may not be enemies, is set in space, and has necromancers. It is also gay. Legitimately one of the title pull qoutes has "lesbian necromancers […] explore a haunted gothic palace in space" HELLO YES. Also turns out the character is wearing aviator sunglasses on the cover, and are not empty eyesockets like I thought.
Book Depository / Barnes & Noble
ℵ
Silver in the Wood by Emily Tesh
Tor, June 2019
This is a novella, I believe, and a wonderful-sounding one at that. It's a m/m story thick with British folklore and Naomi Novik calls it "a true story of the woods, of the fae, and of the heart. Deep and green and wonderful." Doesn't it sound excellent? A handsome young man moves into the local stately home, disrupting the peace of a man tied to the woods nearby.
Book Depository / Barnes & Noble
ℵ
Darkdawn by Jay Kristoff
Harper Voyager / St. Martin's Press, September 2019
I imagine I don't have to say much for this – the final instalment in the much beloved Nevernight trilogy is impending, a year later after its initial planned release, and I am so freaking excited! The events of Nevernight and Godsgrave are still starkly etched in my mind, even though it's been a while since I've read them. Will Mia Corvere get vengeance for the ruination of her family? We shall see.
Book Depository / Hive / Waterstones / Barnes & Noble
ℵ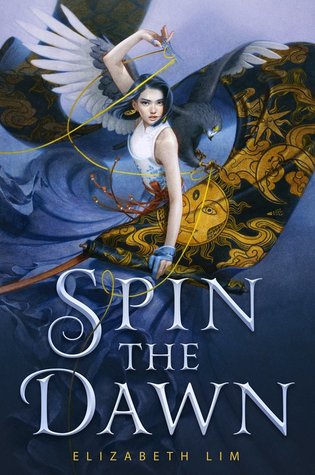 Spin the Dawn by Elizabeth Lim
Knopf, July 2019
Just another amazing Asian-inspired fantasy soon to come out this year, this novel follows a young girl who disguises herself as a boy to enter the royal court when her father, a renowned tailor, is too sick to attend. At court, she finds herself part of a competition to sew three magic gowns for the emperor's reluctant bride-to-be. It's being sold as Project Runway x Mulan, which sounds fascinating.
Book Depository / Barnes & Noble / Blackwell's 
ℵ
Capturing the Devil by Kerri Maniscalco
Jimmy Patterson, September 2019
The final novel in the Stalking Jack the Ripper quartet, once again we follow the beloved duo of Audrey Rose Wadsworth and Thomas Creswell as they work on solving yet another murder mystery. This time, they're in America and on the trail of the infamous White City Devil, who is both difficult to identity and capture.
Book Depository / Waterstones / Barnes & Noble / Blackwell's
ℵ
Wayward Son by Rainbow Rowell
Wednesday Books, September 2019
The follow up to the delightful Carry On, which in itself was a spinoff from Rowell's Fangirl and largely a Harry Potter satire with Harry x Draco vibes, Wayward Son is a sequel I did not expect but I am so happy to have – because Baz Pitch is someone I relate to way too much and I will always take read more about him. Baz's shopping list? Check. Baz in a novel? Check. Baz's poetry? Sure.
Book Depository / Barnes & Noble
ℵ
The Kingdom of Copper by S.A Chakraborty
Harper Voyager, February 2019
The City of Brass was a novel I preordered but never actually got round to reading until this January, where my friends Maranda and Bilan hosted the #thecityofbrassreadalong, and I discovered a new favourite. It was quite languorously plotted but the worldbuilding and characters were actually incredible, and I hear book two is even better.
Book Depository / Hive / Waterstones / Barnes & Noble
ℵ
Descendant of the Crane by Joan He
Albert Whitman, April 2019
Joan He's debut not only has one of the most gorgeous covers 2019 (check out the artist here), but it sounds like an incredible read. Touted as a Chinese Game of Thrones, it follows a young princess who's willing to commit treason to discover the truth behind the death of her father.
Book Depository / Hive / Barnes & Noble
ℵ
A Treason of Thorns by Laura Weymouth
HarperTeen, September 2019
I loved Weymouth's debut novel, The Light Between Worlds. It was beautifully written and emotionally masterful, a sort of post-Narnia book that considered the effects of returning to a place that you don't consider your home. This new book is more fantastical, set in a English-inspired land filled with sentinent magical Houses and their Keepers.
ℵ
[no cover as of yet]
The Never Tilting World by Rin Chupeco
HarperTeen, October 2019
The world is split – one half is night, one half is day. On each side live two goddesses, who discover they are twins split at birth. They make their way across the lands to reunite, destined to heal the rift in the world. Also, the villain is climate change? And there's a chaotic Slytherin with Big Gay vibes :))
Book Depository / Barnes & Noble / Blackwell's 
ℵ
Laura Dean Keeps Breaking Up With Me by Mariko Tamaki
First Second Books, May 2019
A graphic novel I'm very intrigued by (partly because that cover is shiny shiny pretty pretty), it's about a girl called Laura Dean, the most popular girl at school . . . and who makes a very bad girlfriend. Fed up, Freddy seeks the advice of a medium who tells her to break up with Laura Dean. But it doesn't work like she wants it to, and suddenly everything is spiralling out of control – and Freddy has to wonder, is it Laura Dean who is the problem, or Freddy?
Book Depository / Waterstones / Barnes & Noble