"Fall in love. Break the curse."
Prince Rhen, the heir to Emberfall, is cursed. Forced to repeat the autumn of his eighteenth year over and over, he can only be freed by love. But at the end of each autumn he is transformed into a beast hell-bent on destruction, and after so many failed attempts, his kingdom and its people are barely holding on.
Harper's life has never been easy, but she's learned to be tough enough to survive. She won't let anything hold her back, not her cerebral palsy or her mother's deteriorating health.
But when she is sucked into Rhen's world, nothing is as it seems. Powerful forces are standing against Emberfalll … and it will take more than a broken curse to save it from utter ruin.
ℵ
↠ Title: A Curse So Dark and Lonely
↠ Release: 29th January 2019 
↠ Genre: Fantasy/Crossover Fantasy? (?? guys what DO you call it when a heroine is dragged from this world into a fantasy one?)
↠ Author: Brigid Kemmerer
↠ Rating: 4/5 stars
I received a copy in exchange for an honest review.
Did anyone see the UK proof copy covers for this book? Because oh my god, Bloomsbury pulled it out of the park for this one – metallic distorted silver that refracted the light into slick rainbows of colour. (Bloomsbury often does great proof covers, I admit). I played with this one under the shaft of light coming in through one of the velux windows in my house for a good while and sent videos to friends on Snapchat and posted a lil boomerang on Instagram. Because it's eye-catching, and it does its job of drawing attention – I know loads of people were excited for this release, and so was I!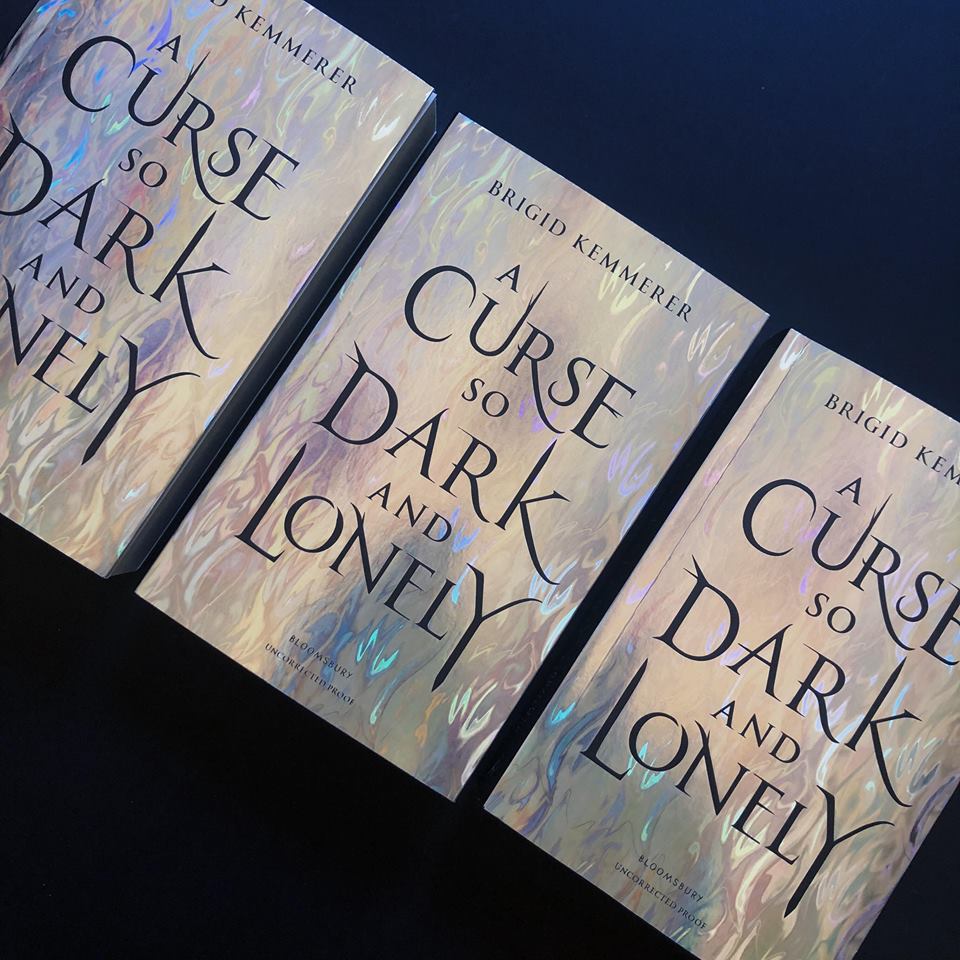 (look at that faint rainbow sheen, like oil on water mmm)
I will admit that I sometimes think about what Bloomsbury's next "big" YA fantasy thing will be, now that Throne of Glass is officially done (of course SJM will be writing more books, but she's going more adult for her next series). With the glittering proof for A Curse So Dark and Lonely, which captured the attention of almost every UK bookstagrammer I know (I had conversations with booksta friends about how likely it was that you could be blinded by the light reflecting off the silvered cover), it seemed to be a good contender.
A Beauty & the Beast retelling, A Curse So Dark and Lonely is strong right off the bat for that lone reason – because I don't know anyone that doesn't love a good Beauty & the Beast retelling. And in addition, this retelling had a few fresh twists which kept it from feeling like retrodden territory – such as the fact it's partly contemporary, a little bit like the movie Enchanted: there's a fantasy world, and the world we're from.
As a dual-narrative book, readers follow both beauty and beast in this novel. Harper takes the role of beauty, and Rhen the role of beast. I came to care a lot for these two, and also for Grey, the captain of Rhen's guard. I loved the group dynamics between these three so much? Ughghsh. So cute. And I loved Rhen's characterisation, and Harper's, and Grey's.
Harper is an incredible heroine, really. One of the best things about this retelling is that she has cerebral palsy, but it didn't affect her presentation at all besides that it helped to demonstrate how brave and fearless and wonderful she was. Her characterisation showed that just because someone may be physically disadvantaged in some way, it doesn't make them lesser, weak, or incapable. (She reminded me a little of Elide Lochan from ToG, actually).
Rhen's curse was also a little different to the original story, as he doesn't live as a beast all the time. Instead, he's human until the turn of winter, where he then transforms into a creature that goes on a bloodthirsty rampage and kills lots of people. And until his curse is broken, he has to live through the same set of weeks again and again, with time always resetting at a certain point. I liked his overall character arc, because he was clearly an hoity toity a-hole prince at one point, but he changes to become someone loyal and hard-working but still low-key arrogant, and I'm soft for those kind of characters (especially if they're princes who happen to be blonde). He even reminded me a little of Dorian from ToG (really, I'm not trying to deliberately compare these characters to ToG characters, but he did! And Rhen and Grey reminded me of Dorian and Chaol). Also, he calls Harper "my lady" and ffffsh yes hello is this one of my favourite princely traits? I want someone to call ME "my lady" but does it ever happen? Nope.
Similarly, Grey, though he may not be a central narrator, is actually awesome. He's scary but also great with kids (I don't like kids, but I can appreciate when male characters are good with kids, y'all) and has a great relationship with Rhen. Honestly, their friendship was fabulous and his loyalty? What a great guy. I know loads of readers love the gruff (but secretly soft inside) guard types, and Grey is certainly one of these.
On the note of side characters, I'd also just like to give a shoutout to my girl Zo, violinst-come-guard and awesome female friend. Zo, you are awesome. Also Noah and Jake! Noah, you are a cutie. Jake, you need to chill a lil bit.
Onto the narrative and plotting: I found the book to go at a steady pace and made my way through the 500-ish pages (big text guys) without struggle or loss of interest. Unlike some other books, ACSDAL didn't grab me instantly from the first page. It was more of a steady build of mild interest to invested interest to 'yes I like this premise and these characters' to 'WHAT IS HAPPENING?'. The thing was, it was a fun, undemanding fantasy book that had a straight-forward narrative and wasn't part of a five-book long series or whatever. And frankly, it was a bit of a break from 800-page epic fantasy tomes (yes, Priory, I'm looking at you.)
Now, this book also had a few YA fantasy tropes I LOVE. Which is awesome. There was the "fake relationship" theme, which is always a classic, and the "pretending to be a princess" theme which is always great when played right. (Also, I laughed really hard when Harper said she was from D.C. and they thought she said Disi and then suddenly they thought she was a foreign princess, and then they capitalised on that mistake).
Frankly, there was little I did not like about ACSDAL. One could pick at the fact the worldbuilding wasn't as complex as it could've been, but I found that the slightly simpler worldbuilding suited the book well and didn't detract from the story in any way. All things considered, the one thing that I didn't really like was that Lilith, the sorceress/villain, wasn't as fleshed as she could've been. Obviously I pick at villains a lot because they interest me the most, so this is a personal vice that may not matter to others. I get that she clearly has a grudge for being spurned by Rhen, but really, it's 2019. Hot sorceress villainesses are all the rage. She just needs to look somewhere else and I'm sure she could find someone else to adore her/give her power (seriously there are loads of powerful idiots in D.C. she could control, I'm sure.) Her motives just felt a little lackluster to me, and she was nothing more than a bully, really.
Frankly, A Curse So Dark and Lonely was a brilliant read – and with the ending (!!!) I really look forward to seeing what book two/the spinoff brings.
TL;DR: An innovative retelling of Beauty & the Beast with a central cast you just can't help but love. Harper's cerebral palsy is a great step towards the positive representation of disabilities within books, and together with Rhen and Grey, the three of them form a delightful friendship squad. I look forward eagerly to the future instalment! 
Further Links: 
Similar Titles: Cruel Beauty by Rosamund Hodge; Hunted by Meagan Spooner; Entwined by Heather Dixon; The Beast's Heart by Leife Shallcross.